Rishi Sunak should remove the whip from Dominic Raab to avoid sending the message that "bullying is somehow OK", the Liberal Democrats have said.
Party leader Sir Ed Davey said the government should take the action – which would force Mr Raab to sit as an independent in the Commons – if he is not willing to quit as an MP.
'Withdraw whip' from Raab – politics latest
Mr Raab resigned as deputy prime minister and justice secretary on Friday after an independent investigation by Adam Tolley KC, which upheld two of eight bullying complaints made against him.
The report found that Mr Raab "acted in a manner that was intimidating" and "persistently aggressive" and had been "unreasonably and persistently aggressive" in meetings.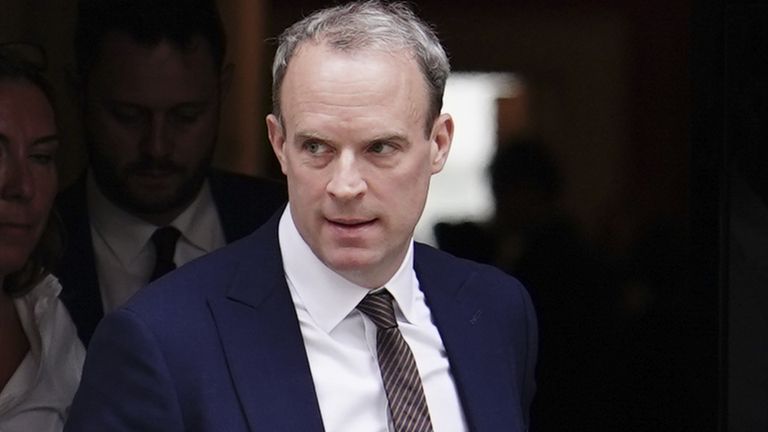 Government 'sending message bullying is OK'
The Liberal Democrats are gunning for Mr Raab's marginal seat of Esher and Walton and the next election, and have demanded he stand down as an MP and face a by-election.
Sir Ed told Sky News' Sophy Ridge On Sunday programme: "If he's not prepared to do that to enable his constituents in Esher and Walton to have the MP they deserve, I think the government should withdraw the whip from him.
"Otherwise, they're sending a message that bullying is somehow OK in the Conservative Party."
Sir Ed claimed his party would be able to win Mr Raab's seat, where he holds a majority of just 2,743 votes.
The Lib Dems are also targeting "big gains" at Elmbridge Borough Council in Mr Raab's Surrey constituency in next month's local elections, he added.
Raab defiant despite quitting
Mr Raab resigned nearly 24 hours after Mr Sunak was presented with the report into his behaviour on Thursday, and before the PM had made a decision on his future.
The former cabinet minister immediately rejected the report's conclusions, claiming the inquiry was "flawed" and "set a dangerous precedent for the conduct of good government".
He later accused a small faction of civil servants of coordinating a plot to oust him.
Raab on 'activist civil servants'

PM's new deputy backs civil servants
Oliver Dowden replaced Mr Raab as deputy prime minister, while Alex Chalk has taken over as justice secretary.
Mr Dowden said Mr Raab was right to resign after two bullying complaints were upheld against him, but he did not suggest his predecessor was treated unfairly during the investigation.
Asked whether Mr Raab was wrong to criticise civil servants, Mr Dowden said: "Well, I didn't live Dom's experience."
The former culture secretary added: "At the height of the COVID crisis, when all of our theatres were locking down, my civil servants worked relentlessly with me to get that £2bn culture recovery fund.
"Civil servants can deliver, but I do not want to see any diminution in the ability of ministers to expect high standards of their officials."
Mr Dowden confirmed reports the government is considering plans to allow greater power to appoint civil servants.
"We keep all these things under review," he told Sophy Ridge on Sunday. "I think it's important we look at civil service appointments on an ongoing basis."
Dominic Raab was 'failing minister'

Labour: Raab a 'failing minister'
Labour's shadow work and pensions secretary Jonathan Ashworth said there was "no problem with being demanding or inquisitorial or pushing the system hard" – but Mr Tolley's report found Mr Raab was "intimidating" and "aggressive".
"It's not just that he was a bullying minister, he was a failing minister – failing to deal with the backlog in the courts, failing to deal with the problems in the criminal justice system – and indeed his failures I think are symptomatic of a failing government," he said.
Mr Ashworth said it was "right" that Mr Raab resigned but said the report "calls into question Rishi Sunak's judgement in appointing him".