Dominic Raab has resigned after allegations he bullied staff members while working as a cabinet minister across different departments.
In a letter posted on Twitter, the deputy prime minister and justice secretary revealed a report into his behaviour upheld two claims against him.
But he took issue with the findings, calling them "flawed" and claiming they "set a dangerous precedent for the conduct of good government".
Politics live: Raab 'keeps word' and quits
It comes after Rishi Sunak was presented with the findings of an official report into Mr Raab's behaviour on Thursday.
A Labour source told Sky News it was the second time a cabinet minister had been "allowed to resign" over bullying allegations, pointing to Sir Gavin Williamson stepping down last year, instead of the PM firing them.
"We've had 13 years of Tory PMs trying to dodge the rules and defend their mates," they added. "Enough is enough."
Meanwhile, the Liberal Democrats called for Mr Raab to resign as an MP and for a by-election to be held in his seat, saying he had shown "he is not only unfit to serve as a minister, but is totally unfit to represent his constituents in parliament".
In the letter addressed to the prime minister, Mr Raab wrote: "I called for the inquiry and undertook to resign, if it made any finding of bullying whatsoever. I believe it is important to keep my word."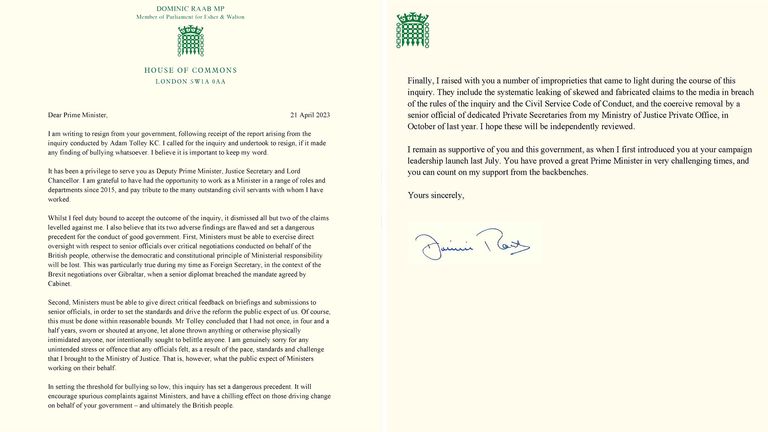 The outgoing minister said the report – carried out by independent investigator Adam Tolley KC – had "not once, in four and a half years, sworn or shouted at anyone, let alone thrown anything or otherwise physically intimidated anyone, nor intentionally sought to belittle anyone".
But he also attacked the findings, saying the inquiry had set "the threshold for bullying so low" that it had "set a dangerous precedent".
"It will encourage spurious complaints against ministers, and have a chilling effect on those driving change on behalf of your government – and ultimately the British people," said Mr Raab.
He added: "I am genuinely sorry for any unintended stress or offence that any officials felt, as a result of the pace, standards and challenge that I brought to the Ministry of Justice.
"That is, however, what the public expect of ministers working on their behalf."
Mr Raab also attacked the process of the investigation, saying there had been "a number of improprieties" – including the "systematic leaking of skewed and fabricated claims to the media" and "the coercive removal by a senior official of dedicated private secretaries" from his private office.
He signed off pointing to his loyalty to the PM, writing: "I remain as supportive of you and this government, as when I first introduced you at your campaign leadership launch last July.
"You have proved a great prime minister in very challenging times, and you can count on my support from the backbenches."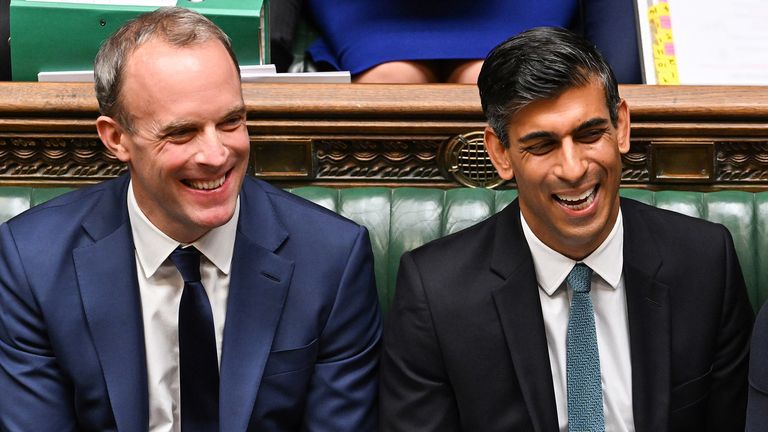 Mr Raab was appointed by Mr Sunak after he took power in October, and less than 48 hours ago was sat alongside the PM at Prime Minister's Questions.
Allegations surfaced about Mr Raab back in November, with former staff claiming he created a "culture of fear" in their departments.
He denied the allegations and requested an investigation into himself after two formal complaints were made.
As the weeks rolled on, more accusations came to light, with one report suggesting as many as 24 complaints had been made.
Mr Sunak has come under pressure over what he knew about Mr Raab's alleged conduct, with a source telling political editor Beth Rigby the PM was informed about Mr Raab's "unacceptable behaviour" before appointing him as his deputy and justice secretary.
Downing Street said Mr Sunak was "not aware" of any "formal complaints" about Mr Raab when he appointed him, but Number 10 did not deny concerns had been expressed informally.
Labour leader Sir Keir Starmer has previously accused the PM of ignoring reports about Mr Raab's conduct.
Mr Raab's departure follows Mr Sunak's decision to dismiss Tory party chairman Nadhim Zahawi from his post in January after the former chancellor was found to have broken the ministerial code over his tax affairs.
General secretary of the Prospect union – which represents civil servants – Mike Clancy said there had been "a toxic culture at the top of government for too long with civil servants and public trust paying the price for this chaos", calling on Mr Sunak to now "clean out the rest of the stables".
He added: "These issues go to the heart of the anger and distrust many people feel towards the way our country runs. It is time for ministers to step up and to start restoring trust both for civil servants and the good of the country.
"This should be a wake-up call for ministers, that the way to deliver for the public is to respect and value public servants."