Ursula von der Leyen will meet with the King this afternoon as she discusses changes to the Northern Ireland Protocol in Windsor with the prime minister, Sky News understands.
A palace spokesperson said: "The King is pleased to meet any world leader if they are visiting Britain and it is the government's advice that he should do so."
The prime minister's official spokesman said Rishi Sunak believes "fundamentally" the decision was for Buckingham Palace.
"He firmly believes it's for the King to make those decisions.
"It's not uncommon for His Majesty to accept invitations to meet certain leaders. He has met President Duda and President Zelenskyy recently. He is meeting with the president of the EU today."
Final talks on Brexit deal near – politics latest
Asked why the final protocol talks were taking place in Windsor, the spokesman said: "There are a number of occasions when these sorts of talks have been held in significant occasions, this is no different."
The European Commission president is in the UK to hold talks with Rishi Sunak with both sides closing in on securing an enhanced Brexit deal.
Sky News earlier reported King Charles was lined up by Number 10 to meet Ms von der Leyen on Saturday, but the meeting was called off.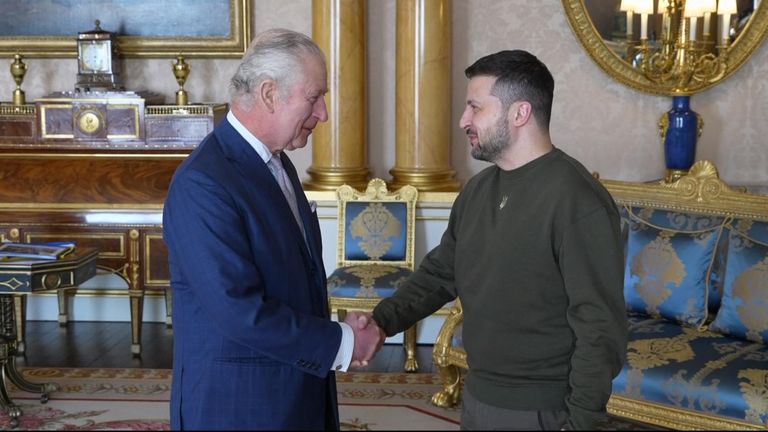 One source close to the negotiations said on the weekend that the King's involvement was definitely an attempt to sell the protocol domestically.
However, other government sources are deeply concerned that this politicises the new King even before his coronation.
Former cabinet minister and leading Brexiteer Jacob Rees-Mogg told Sky News: "If there were a plan to bring the King in before there is domestic political agreement, it would border on constitutional impropriety."
Other parties said even thinking of drawing the King into the negotiations was questionable and condemned the move.
Labour's shadow Northern Ireland secretary Peter Kyle said: "I do not know how a thought of involving the King could pass somebody's mind and reach it to their mouth before they realise that this is a very very unwise policy to choose because it has constitutional implications."
Downing Street has defended the decision to advise the King to meet the EU boss as the UK and the bloc seal a new Brexit deal on Northern Ireland.